After attaining his Bachelor of Arts in Italian Language, Literature and Culture in 1973, Gianni became one of the shareholders and the program planner of the Roman film club L'occhio, l'orecchio e la bocca (Eye, ear and mouth). As program planner and organizer for this film Club, he took part in the 1977 film review known as Massenzio which was part of Renato Niccolini's Estate Romana (Roman Summer). Afterwards, he curated nine editions of this very successful film review.
It was 1983 when he signed as scriptwriter and screenwriter of his first film Bello Mio Bellezza Mia (My Darling, My Dearest) by Sergio Corbucci starring Giancarlo Giannini, Mariangela Melato and Stefania Sandrelli. For Corbucci he wrote three additional films: Sono un Fenomeno Paranormale (I Am an ESP); Rimini Rimini; Roba da Ricchi (Stuff for Rich People) and a television series Donne Armate (Women in Arms).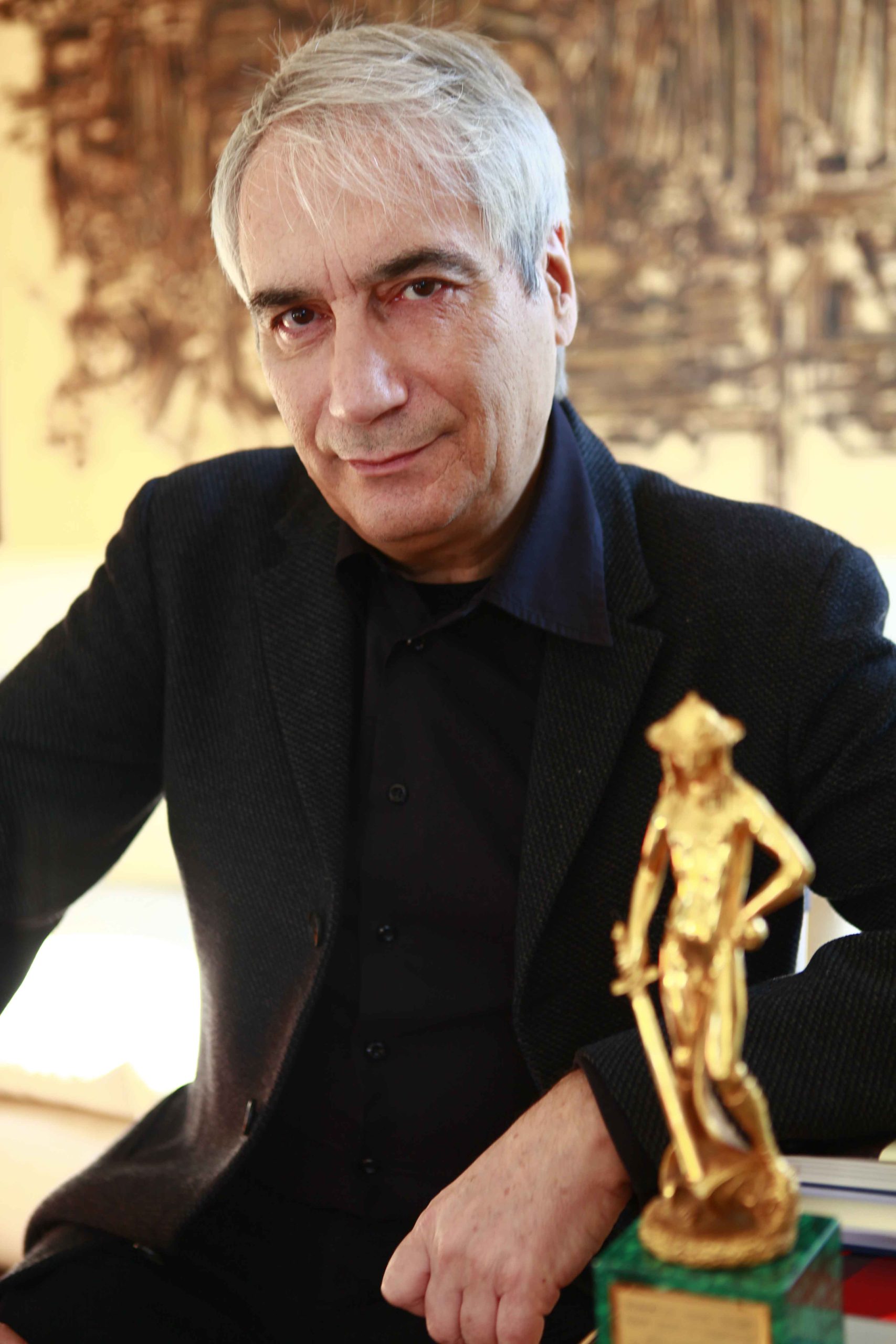 At the same time, he wrote for Meme Perlini the experimental Cartoline Italiane (Italian Postcards) and some tv series: Il Ritorno di Ribot (The Return of Ribot) by Pino Passalacqua with Charles Aznavour and Detective Extralarge: Magia Nera (Detective Extralarge: Black Magic) directed by Enzo G. Castellari starring Bud Spencer.
In 1991, he wrote for the film-maker Dario Argento La Setta (The Sect) directed by Michele Soavi and for Lamberto Bava the fantasy series Fantaghiro' (The Cave of the Golden Rose). The series reaped such a great public success in Italy and across the world that he wrote the second, third, fourth and fifth edition starting an actual saga, which represents a rare example of Italian Fantasy. In addition, he produced three more fantasy series directed by the same Lamberto Bava and quite successful too Desideria e l'Anello del Drago (The Dragon Ring); Sorellina e il Principe del Sogno (Alisea and the Dream Prince); La Principessa e il Povero (The Princess and the Pauper).
As for his involvement in the cinema, he also contributed to the creation of La Scorta (The Bodyguards) by Ricky Tognazzi and he wrote the script and film treatment for Il Trauma (The Trauma) by Dario Argento and Palla di Neve (Snowball) by Maurizio Nichetti.
Contemporarily, he wrote the story of the 1991 film A tutte le Volanti by Romolo Guerrieri, the TV series Un Inviato molto speciale by Vittorio De Sisti starring Lino Banfi and the series Racket by Luigi Perelli with Michele Placido.
Gianni founded a production company in 1994 with Tilde Corsi and Michele Soavi, who produced Dellamorte Dellamore (Cemetery Man) of which Gianni wrote the screenplay.
The film became an out-and-out worldwide cult, winning two awards of extraordinary importance at the Gerardmer Film Festival in France. Afterwards, he was responsible for the script writing and production of the last film directed by Marco Ferreri, Nitrato d'Argento.
In 1999, a new company called R&C Produzioni was established with Tilde Corsi where he wrote and produced with Ferzan Ozpetek (who debuted the previous year with Il Bagno Turco "The Steam") the film Harem Suare, nominated at the Cannes Film Festival. The following year, Kippur by Amos Gitai was also premiered at the Cannes Film Festival.
In 2001 he wrote and produced Le Fate Ignoranti (Ignorant Fairies) directed by Ferzan Ozpetek. The film was presented at the Berlin Film Festival and won 5 Silver Ribbons – two of which dedicated to Romoli's work, one for Best Scriptwriting and one for Best Year Producer.
One year later, R&C Produzioni was nominated at the Venice Film Festival for Amos Gitai's film Eden, starring Samantha Morton and Danny Huston as key protagonists.
The collaboration with Ferzan Ozpetek continued: Romoli wrote and produced the script and screenplay for La Finestra di Fronte (Facing Windows). The film had such a great success at the box office and received several awards among which the Biglietto d'Oro award, 5 David di Donatello awards and 3 Silver Ribbons: one for Screenplay that awarded the Golden Globe as well.
It was 2004 when Gianni attended the Cannes Film Festival as producer of Lucrecia Martel's film La Nina Santa (The Holy Girl). In the same year, he produced Vincenzo Marra's films Vento di Terra (Earth's Wind) and L'ora di Punta (Rush Hour) starring Fanny Ardant and nominated at the Venice Film Festival.
He wrote and produced two additional films with Ferzan Ozpetek: Cuore Sacro (Sacred Heart) with Barbora Bobulova, winner of 2 David di Donatello Awards and 2 Golden Ciak; Saturno Contro (Saturn in Opposition), which reaped a huge success at the box office and other important achievements: 1 David di Donatello Award, 4 Silver Ribbons, 5 Golden Globen of which one for screenplay. Contemporarily, his production with Rai of La Siciliana Ribelle (The Sicilian Girl) by Marco Amenta was presented at the Rome Film Fest.
Later on, through a partnership with Fandango, he produced Il Passato è una Terra Straniera (The Past Is a Foreign Land) directed by Daniele Vicari and adapted from the homonym novel by Gianrico Carofiglio.Gianni was co-author of the film plot and screenplay of Director Aureliano Amadei's debut 20 Sigarette (20 Cigarettes), that won as best Italian film at the Venice Film Festival and received the Francesco Pasinetti Award, in addition to a special mention for the author Vinicio Marchioni. Furthermore, the film achieved the Roma Pasolini Award and 4 David di Donatello Awards, winning as Best Producer. He co-wrote and produced Il Volto di un'Altra (Another Woman's Face) by Pappi Corsicato, premiered at the International Rome Film Fest.
He went back to writing and producing with Ferzan Ozpetek Allacciate le Cinture (Fasten Your Seatbelts) followed by Rosso Istanbul (Red Istanbul) and Napoli Velata (Naples in Veils), winning 2 David di Donatello Awards and one Silver Ribbon. In 2019, Romoli wrote and produced with Ferzan Ozpetek the film La Dea Fortuna (The Goddess of Fortune) starring Stefano Accorsi, Edoardo Leo and Jasmine Trinca. The film had a major success at the box office winning 2 David di Donatello Awards. During the same year, he wrote Thanks! by Gabriele Di Luca and two years later he released Non Mi Uccidere (Don't Kill Me) directed by Andrea De Sica which received public approval on Netflix and was awarded the Golden Bat Career Achievement at the Rome Fantafestival.
Between 2020 and 2021, he conceived, wrote and produced the television series 'Le Fate Ignoranti' directed by Ferzan Ozpetek (who was also responsible for the 2001 Italian film The Ignorant Fairies), premiered on April the 13th, 2022 in Italy and released on several streaming platform among which Disney +.
Via del Commercio, 32
00154, Roma